Teaching Students by Design with Ellen Hefty
By Ellen Hefty
Listen on
---
Links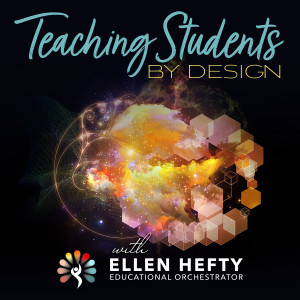 Are you a teacher that has students who are struggling in your classroom?
Or are you a school administrator that is looking for a tool for your staff that can create great change?
Do you worry day and night about students who aren't reaching their potential?
Are you trying to reach your students and are beginning to realize the old tools just don't work for everyone?
If you said yes to just one of these questions, then this podcast is for you.
The Teaching Students by Design podcast introduces educators to a practical, simple-to-use tool called Quantum Human Design to help students get their energy needs met and reach their potential. Educators are experiencing more burnout than ever and more students are struggling to succeed.
The mission with the Teaching Students by Design program is to guide educators to transform how students are educated and help all parties reach their fullest potential, knowing that when each of us is being our unique and authentic self the world is a more sustainable, compassionate, peaceful, and loving place.
To find out more about Ellen and her work, and to begin your journey of teaching your students by design, please visit the Teaching Students by Design program at
https://ellenhefty.teachable.com/
As a thank you for listening to this podcast, Ellen is offering 10% off of her Teaching Students by Design program when you use the coupon code PODCAST10 at checkout!
Make sure to subscribe, follow, and rate this podcast on your favorite platform to help get Ellen's teachings out into the world!
In 2013 Ellen left a 22-year career as a middle school teacher and elementary school administrator. She watched as so many students did not receive the education they needed or deserved. She witnessed incredible educators who, despite doing their best, were not able to help because the system doesn't work for many students. She made a promise to herself that she would go out and find a way to transform schools so that every student receives the education they deserve.
Little did she know that her journey since leaving education was going to first be a personal discovery of what she needed to learn and change in her own life. Through her experiences she was led to tools that helped her step more into her fullest potential. On her journey, one of the tools she was introduced to was Human Design, which later led to the upgraded language of Quantum Human Design. She studied traditional Human Design for two years before beginning her certification path with Quantum Human Design. After certifying, she discovered a passion to take the information and structure it in a way to help educators with their students. That led to the development of an online school called Teaching Students by Design.
To contact Ellen, please visit
https://www.ellenhefty.com/
The Quantum Human Design™ language and concepts in this show have been created and inspired by Karen Curry Parker and her work and are used with permission.
Produced by Number Three Productions,
https://numberthreeproductions.com/
Disclaimer:
We cannot guarantee anyone's success when using the topics presented in this show. There is only one person who can guarantee your success, and that is you.
The content provided on this show is not intended to be a substitute for professional advice, diagnosis, or treatment or to treat, cure, or prevent any disease or illness. Always seek the advice of your mental health professional or other qualified health provider with any questions you may have regarding your condition. Never disregard professional advice or delay in seeking it because of something you have heard on this podcast.
Latest episode